FREE presentation and book signing!
We are so excited to offer Class #123 100 Things, 100 Days: Writing and Researching Syracuse's First Travel Guidebook on Wednesday, April 6 from 1-2:30 pm.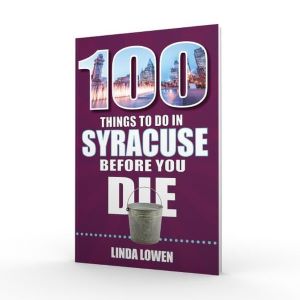 This will be the first public presentation of 100 Things to Do in Syracuse Before You Die by local author and Upstate Oasis writing instructor Linda Lowen!
Deemed 'too small' to be written up by Fodor's, Frommer, The Lonely Planet, and other big-name travel publishers, Syracuse is finally getting its 160 pages of fame. Now available, 100 Things to Do in Syracuse Before You Die, written by Linda Lowen and published by Reedy Press. Learn how Linda researched and wrote the book in just 100 days and distilled the unique qualities of metro Syracuse into one-hundred 130-word entries. Get a peek into the world of travel writing and what it takes to write in this genre.
Presentation is free but registration is required:
We look forward to learning about and seeing Syracuse with fresh eyes!